Recently, Fraunhofer ICT and HRC jointly initiated the advanced research project of carbon fiber aircraft door edge member. This project was led by ACTC (Advanced Composite Technology Center). The product trial production and process validation of abovementioned project has been completed at Fraunhofer ICT located in Pfinztal, Germany. Several international outstanding enterprises from the composite molding supply chain, such as SGL Carbon, Alpex Technologies, Huntsman, KraussMaffei and Hufschmied also participated the project. This project aims to verify and explore the application scenarios and prospects of high-pressure resin transfer molding (HP-RTM) technology in aerospace structural parts and response to the increasingly serious market competition.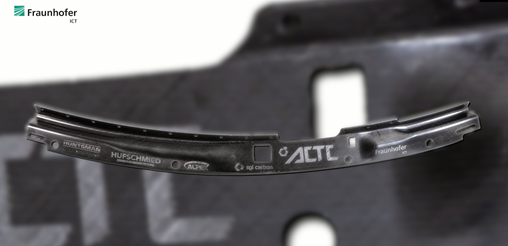 Carbon Fiber Aircraft Door Edge Member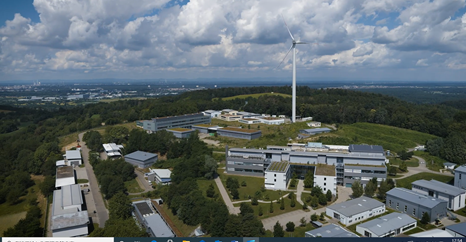 Fraunhofer ICT located in Pfinztal, Germany
The Advanced Composite Technology Center (ACTC), which is the first R&D center in China for applied research dedicated to composite technologies in future lightweight applications, was established in 2019 by HRC supported by Fraunhofer ICT. The project team investigated all key R&D topics starting from material selection, process optimization, mold function optimization and integrated, highly automated equipment design so that the entire molding cycle was shortened by 70% compared with the traditional manufacturing process. This shows those cooperated enterprises has outstanding capability of mass production process development and manufacturing solution. SGL Carbon biaxial adhesive fabric not only ensures the strong adhesion between preforms, but also provides good infiltration conditions for Huntsman resin. Preforms with thickness of more than 7 mm are molded by high pressure resin injection, which shows the flow infiltration advantage of HP-RTM. The double vacuum linkage design of KraussMaffei and Alpex ensures the low porosity of products. The development of Huntsman high-pressure RTM aerospace resin system provides the possibility for the preparation of aerospace parts by HP-RTM process. The online quality detection system developed by Hufschmied in combination with adequate machine tools ensures the required reproducible part quality recorded during the final trimming process.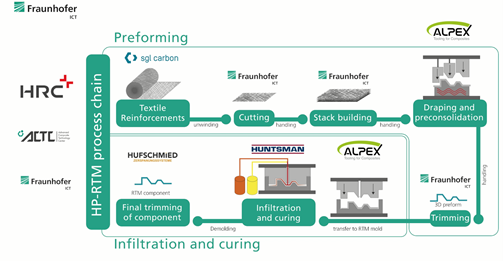 The success of the project fully states that HP-RTM process can be used in aerospace applications, which can extremely shorten the production cycle time while ensuring the high quality of products. By replacing the existing labor-intensive production with automatic production, it reduces the production cost. Fraunhofer ICT and HRC will continue to promote the application of this technology in the aerospace sector and help aerospace manufacturing enterprises to achieve the goal of lightweight, energy saving, emission reduction and environmental protection.